See Menu & Order

Let's Be Frank
Newmarket Top Italian Eatery & Catering
If you are looking for delicious Italian food in your neighborhood, you must check out our freshly made sandwiches, panzerotti, gourmet pizza and pasta. We cater the finest traditional Italian food for all your events, parties and business lunches at a sensible price.
Great Food Made Fresh
Review Courtesy of snaps
Are you looking for a great place to grab a fast lunch or a quick take-out dinner? Well, look no further than Let?s Be Frank (LBF)… Italian eatery located in the Beer Store plaza at Davis and Leslie. LBF is one of snaps Newmarket's favorite local restaurants since they have recently introduced a new menu it seemed a great time to pick up a freshly cooked dinner to take home. Our delicious meal included Penne Alla Vodka, Chicken Limone and Marsala and a Pesto Bocconcini Pizza which given the large portion sizes was more than enough to feed the hungry men in my house.
The pasta was cooked to perfection, the tomato vodka cream sauce was to die for, with the pancheta and caramelized onions added it was a wonderful taste combination that we will be ordering again and again. Both of the Chicken dishes were excellent, it was hard to decide which one we preferred. The Limone includes pan-seared chicken breast topped with a lemon white wine sauce which was so tender it literally melted in our mouths. The Marsala sauce, made in house, was perfectly seasoned combined with the tender chicken medallions and mixed mushrooms it was a taste sensation. All of LBF pizzas are homemade on a Durum Semolina Crust which is then stone baked. After your first bite, you can taste the freshness of all the ingredients. Pesto, light tomato sauce, fresh tomatoes, mozzarella and bocconcini combined to make this a truly memorable pizza.
Check out LBF soon and make sure you tell Proprietor Sam Farnaghi and the friendly staff that you read about them in snapd. LBF? traditional recipes, large portions, and excellent prices will keep you coming back again and again. LBF offers Italian food catering service and staff lunches for groups of 10 to 500 and Yes, They Deliver! Call 905-967-1122 or visit letsbefrank.ca for information.
---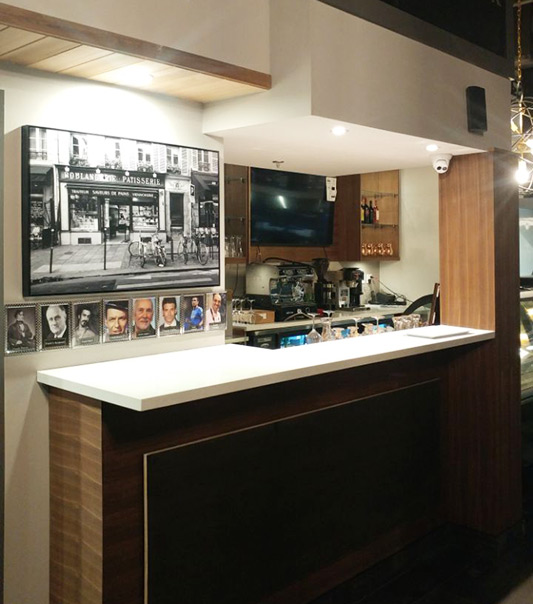 Our Business Hours